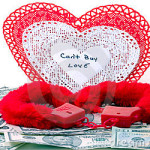 February is the month of love and many are going about their ways planning to make that day great for their loved ones. Most are looking into big fancy dinners, jewelry, or flowers and candy, which often accompany huge price tags. While there is nothing wrong with spending money on others, wouldn't it be great to be able to show our love and appreciation while spending less!
Here are some tips to help you show your love without going broke on Valentine's Day!
1. Prepare Breakfast in Bed. This is a great way to make your loved one feel great, and get a meal in the process. The meal can be as simple as pancakes and fruit. It's the thought that counts. Add a vase and flower for a touch of elegance.
2. Cook a Nice Dinner. Find something in the freezer and prepare it. Send the kids away and light a couple of candles. This is not only romantic, but economical.
3. Visit a Nice Restaurant During Happy Hour/Bar Hour. Many restaurants have a Bar Menu or Happy Hour Menu where the prices are significantly reduced. McCormick & Schmick's has a Bar Menu where you can get meals for $2.99 with the purchase of a drink. You can buy 2 cokes and feed you and your sweetie for under 10 bucks! Other restaurants may be doing "Ladies Night" or offering special discounts to help you save on Valentine's.
4. Enjoy an Inexpensive Dance Class. There are all sorts of dance studios that offer beginner classes for various forms of dancing from Ballroom to Salsa to Chicago Stepping. Some of the classes are free and some may be as little as $5-$7 per person. This is a sexy way to get in the grove and get in a good workout too!
5. Take a Romantic Walk. Go to a beautiful neighborhood or park and take a nice romantic walk. Hold hands, hug, kiss, and share your wishes and dreams with each other. Reminisce on the good times of your relationship and talk about your future together.
6. Tour a Winery or Find a Free Wine Tasting. There are many wineries that offer free wine tastings. Notice, I said tour. If you purchase wine, it may no longer be a low cost date.
7. Have Wine and Cheese in Front of the Fireplace. You can purchase great, inexpensive wine from Trader Joe's or try Barefoot Wines. They are award winning and budget friendly. You can also visit a local grocery store deli for an assortment of cheeses.
8. Explore a Chocolate Factory. There are many candy shops or chocolate factories that offer free tastings. Some even allow you to see how the candy is made. Visit a shop and enjoy the samples for free.
9. Buy Jewelry at Wholesale Prices. You can do this by visiting a local Apparel Mart where you can get up to 70% off retail prices or a Wholesale Shop. You may have to have a Business License to get in, but ask if they have special days that are open to the public.
10. Visit a Local Museum or Art Exhibit. Many museums have offer free to low costs days. Call your local museum and ask if they have any discounts on specific days. Sometimes there are free outdoor exhibits. This is good as long as it's not cold outside.
11. Create a Masterpiece Together. Paint a picture together, put a puzzle together, or create a scrapbook of memories of your relationship. This will strengthen your relationship by doing an activity together.
12. Renew Your Vows. What better way to recommit yourself to the love of your life and to your marriage than renewing your vows. You can do this just between the two of you in the comfort of your home.
13. Leave Special Notes. Put a special note in a lunch box, leave Post-Its around the house professing your love, or write a special message in lipstick on the mirror. Guys make sure not to leave her good lipstick!
14. Go on a Sexy Scavenger Hunt. Hide naughty delights all around the house and leave clues on how and where to find them. This is sure to help your night end with a bang!
15. Relax Together. Do this by taking a bath together with some rose petals or use some sensual oils to give each other a body or foot massage. Put on some soothing music and drift off into paradise together.
I hope these tips will help you express your love and have a good time without busting your bank!
Lynesha McElveen is owner of Liberty Educational Group and is known as the Di$count Diva that teaches people how to get the best for less and still have money in the bank.
Comments
comments