By: Lynesha McElveen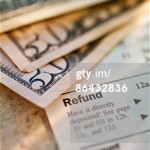 So it's Tax Time again and it's the time of year where many of us get large refunds in February, ball out of control in March, and have little to nothing left to show for it by April.  This is a vicious cycle that often repeats itself year after year.  This should be the year you do something different.  You should make a plan for your money so it doesn't get eaten up by the Boogie Man.  You should do something different in order to get something different.  Let me help you!
 Plan to save at least 50% of your refund.  This is the perfect opportunity to stack your emergency fund.  Most American families only have 2 weeks of living expenses saved up.  You should have a minimum of 6 months and your tax refund is the perfect way to build it!
Use your refund to purchase investments.  Some of us feel we don't have extra room in our current budgets to add investing.  A lump sum tax refund in an excellent way to purchase some shares and not feel the pinch with your current expenses.
Add to your Down Payment for your home. If you are in the market to purchase a home, you may need a down payment.  Some lenders require up to 20% and some as little as 3%.  Your tax refund can be a wonderful way to add to your down payment and enable you to purchase an asset verses a liability.
Start a college fund for your children.  If you haven't started a college fund or are interested in increasing the value, use your tax refund.  The investment into your children will far outlast many others.
Max out your retirement fund.  If you have a 401K, 403B, or IRA and you have difficulty maxing it out, a tax refund can help.  Use your refund to add to your current contributions and if you have already maxed out your fund, open an additional fund.  If you are Self-Employed you can open a SEP or Self-Employment Plan and add up to $40,000 into it yearly. Investing into a 401K or 403B also lowers your taxable income so you pay less in taxes.
Start a small home based business with your refund.  There are many small businesses you can start in the comfort of your own home.  Many of them can be started for under $500.  What an awesome way to invest into something that will bring more money to you in the future.
Give a percentage to an assembly, charity, or non-profit organization.  What a wonderful way to give back to others and get back joy in return.  Plus, it is well known that the biggest givers are also the biggest receivers.  The more you give, the more you get!
If you receive sizable refunds, you may want to adjust your tax exemptions so you get more of your money during the year.  When you get a large refund, you are giving the government an interest free loan for a year.  Why not get your money during the year so you can do what you want with it verses waiting until tax time?
I hope these tips help you build wealth and accomplish your financial goals without feeling the pinch!  So use your tax refund and fund your life!
Comments
comments