Spring is a time of new beginnings. Things start to blossom and bloom, new life is everywhere, and people seem to have a little more pep in their step! It's time to begin your life anew in your finances. For many of us, we spent the winter months splurging from Holiday shopping, entertaining at family gatherings, or buying school clothes for our children. Not to mention those "gotta have" cute boots, new Ipads we couldn't live without, and vacations we refused to miss. Now is the perfect time to make a decision to make some changes.
Spring not only marks a time for new beginnings, it also almost marks the completion of the first quarter of the year. This is a time you should sit back and review your yearly goals and give an honest and realistic look at how you have been doing. Have you accomplished some of the things you planned to do? If so, great, it's time to add new goals. If not, why not? What is holding you back? Is it people, situations and circumstances, fear, or YOU!
Financially, how are you doing? Many of us made a goal to get out of debt in 2013, so how are you doing with this? Have you paid off anything or do you continue to use your credit cards for "emergencies" like a sale at Nordstrom's? Have you paid off a card only to charge it back up? Maybe you need to check yourself for your lack of discipline and self-control. Maybe you need to put those cards in the freezer? Maybe you even need to ….cut them up!!!! Duhh, Duhh, Duhh (scary movie theme music). If you are not able to look towards delayed gratification, then maybe you need to get forced into delaying your gratification by not having any cards.
Have you cut costs so you have extra money to save? Have you gotten rid of non-necessity items, i.e. cable and cell phones, if need be. I know you think I'm crazy, but if you are struggling and you don't have any money in your savings account, you don't need cable! Sorry.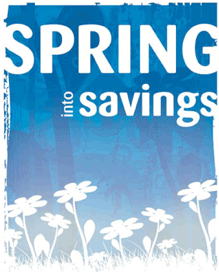 Have you identified ways you can save money, i.e. shopping discount, using coupons, buying used, purchasing on the internet, costs sharing, etc.? Do you always buy things full price or do you go to the clearance sections first? When grocery shopping, do you stick with the outside aisles or go on the inside where the goodies are and shop by your list? When car buying, do you come with cash to put down or make the purchase in full so you have room to negotiate?
Spring into Savings is not just about cutting costs on items you want to buy, but springing into putting extra money into your savings/investment accounts.  What about your savings goals?  How have you done with building your emergency fund?  Do you have 3-6 months of living expenses saved up?  Do you have even one month saved up?  Do you have even one week saved?
If you are taking all of these positive steps then you are on the right track, but if you're riding on the train most traveled by, you might want to jump off that one and catch another train because that one is headed for a crash.
Spring is here and today is a great day to start out fresh. Today is a great day to save your money, save your life, and save your future. Today is a great day to "Spring Into Savings!"
Comments
comments