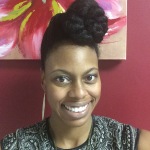 Hey Divas!  Have you ever been pushed?  I mean really pushed, to the point of being uncomfortable, irritated with the person pushing you, or just plain wanting to slap them because they won't leave you alone?  I have.  I am often pushed to that point by the one closest to me, and I must admit that while I often want to scream, it ALWAYS ends up turning out great!
I say that because if you don't have someone in your life who is pushing you to a point of discomfort, then you won't and can't become your best.  Last week was when I was pushed to the point of discomfort.  I was trash talked, held accountable, and given some ultimatums.  The result was, I had the best week in my business thus far.  The person who pushes me most is my husband.  He had been asking me to post all my products all week and it was Thursday and I still hadn't done so and I guess he had gotten fed up.  He came at me so hard.  I wasn't even offended because I knew he was right!  I finally did post my items on Friday and I had a PHENOMENAL weekend.  I even got an unexpected styling gig!  It was his pushing me to post, and work, and expect the unexpected that caused all these things to be.  Let me clarify.  It was my Heavenly Father that caused them to be.  He just sent a word through my husband, who tried to get me to comply, and when I wouldn't he got frustrated and told me about myself.  Lol!
Moral of the story…We all need to have someone in our lives to push us in order for us to get to the next level.  So my question to you is, who is that person in your life?  Do you have that person in your life?  If not, why don't you?  Are you scared?  Scared to be pushed, poked, and prodded.  Scared to be held accountable, asked questions, challenged?  Scared to be molded into a mover, and shaker, a change maker?  Scared to be great…because becoming great is a process, and process is NEVER comfortable or easy.
Who is pushing you?
Comments
comments