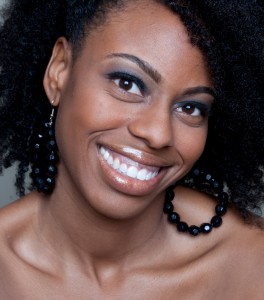 Lynesha McElveen, known as The Di$count Diva®, is the owner of Liberty Educational Group Inc. (L.E.G.) and L.E.G.acy Builders.  
She has a passion for working with people of all ages and helping give them the freedom to get a L.E.G. Up on Life through Life Coaching, Economic & Entrepreneurship Education, and Greatness Training.  Her work with L.E.G. gives her the opportunity to coach people on achieving financial freedom, increasing their personal potential, and "Having It All."
As The Di$count Diva, she teaches principles in budgeting, costs cutting, and wealth building, specializing in concepts like, how to get the "Best for Le$$" and still have money in the bank.  She prides herself in teaching people how to, "Get Your Gucci Without Getting Gotcha!"  Lynesha believes you should be able to have it all, and still be able to leave an inheritance for the next generation, but in order to do so, you must be S.M.A.R.T. about spending.
Her passion also includes promoting health and wellness through educating girls and women in caring for their spirit, soul, and body and by helping them develop self-esteem, sound character, and discipline.  Lynesha mentors and encourages others to follow their dreams and build a lasting legacy.
Lynesha has worked with major universities including Clark Atlanta University, Georgia State University, Spelman College, and West Virginia University. She has also worked with Habitat for Humanity, Goodwill Industries, Watch Her Work/Bad Boy Entertainment, Ready to Launch, Maynard Jackson Foundation, the Police Athletic League and a host of other organizations, non-profits, and institutions teaching financial principles, entrepreneurship, and personal development.  Featured in Black Enterprise and interviewed by the Urban Business Roundtable and Views from the Top, she is a sought after expert.
In addition to giving workshops and seminars, Lynesha hosts events, including Swap Til You Drop and Sip, Swap, Shop events where people bring items they are no longer using and swap them out for "new to you" items and Di$count Diva Shopping Excursions where she takes groups of people on shopping trips and teaches them some of the tricks of the trade to getting the best deals when discount shopping.
Lynesha has written for Empower Me! Magazine and is a monthly contributor to Hope Magazine.  Her latest accomplishment was writing her first book, "Discount Diva's 30 Tips to Having the Best for Less: A Guide to Financial Freedom" and she is currently in production for her upcoming show, "Thrifting with The Di$count Diva" a show featuring di$scounts and deals in Food, Fashion, and Fun.  She hopes to continue improving the world around her by educating, empowering and serving others… one day at a time.