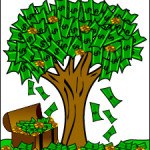 So the saying is, "April Showers Bring May Flowers."  What exactly does that mean for you and your money?  For me it means you have to water your money to get increase.  So what does it mean to, "Water your money?"  Like anything else, you have to care for, feed, and nurture your money to make it grow.  Watering your money can be as simple as reading a book on investing so you have the knowledge to make wise decisions about where to put your money to allow it to grow.  If you don't have the time or desire to sit down and read a book, get a book on CD or DVD and learn from the best how to build wealth.  Some great books to start with are: The Richest Man in Babylon by George Clason, The Millionaire Next Door by Thomas J. Stanely and William D. Danko, and Rich Dad, Poor Dad by Robert Kiyosaki.
April Showers and Your Money can also mean attending a seminar where someone is educating you on concepts you are not as familiar.  For example, if you've always wanted to learn about Real Estate, than do it.  When I say do it, I don't mean go out there and buy houses, uneducated.  I mean, take a course, get a mentor, and learn about Real Estate first, then jump out there.
If you've always wanted to invest in the stock market but never knew where to start, find someone who is doing what you want to do and learn from them.  I have always been a huge fan of having mentors.  Not just when you are in high school or college, but as an adult.  If you do this, you are watering yourself and as I have stated in the past, "you are your biggest investment."
Many people look at rain as somewhat of an inconvenience.  It's something they don't REALLY want to deal with, but have to, so they tolerate it.  They know it's necessary, but they don't like it.  What about experiencing April Showers in your money by purposefully engaging in doing something you may not like or inconveniencing yourself by going on a financial fast.  A financial fast is where you cut out all unnecessary spending for a period of time to purge out bad habits, pay off debts, and save money or…bring May Flowers.  You can set this up according to how serious and committed you are to achieving your financial goals.  To get optimal results, I suggest doing this for a minimum of a month.  That means no spending on eating out, entertainment, or activities.  It also means doing your own nails, plucking your eye brows, and wearing the clothes you already have in your closet, some of which probably still have tags on them.   A Financial Fast means spending on only the absolute necessities, i.e. giving, saving, investing, paying bills and debts, and buying groceries.
During this fast, you may have to tell your friends you can't do some of the things that were on your list of fun activities.  Put on your big girl panties.  Remember: Keep your eyes on the prize!  The prize is the May Flowers that will come as a result of your April Showers, or you watering yourself and your money.  This Financial Fast may just change how you view the rain.  Instead of viewing it as something that slows you down, you may just look at it as giving you the nutrients you need to blossom into a beautiful tree.
Spring is a time of growth.  Everything is buzzing.  Things that were once dead are coming back to life.  It is a time to look at your finances to ensure they are not dead and if they are to make the necessary changes to resurrect them.  I hope your April Showers bring your prosperity and peace in every area of your life and as a result of the steps you take, result in generational victory!
Comments
comments